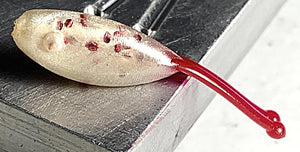 Candy Apple glitter. Red glow tails. Baked in sent. UV enhanced. Signature tough as nails. Perfect size for the finicky summer bite. 
NOT IMPORTED! Made in Oklahoma. Jig size: 1/32, 1/16, 1/8.
 To maximize your G-Daddy Bait life consider cutting the bait and jig off your line versus removing the G-Daddy Bait from your jig. You can set aside the one you cut off for later use and tie on a new jig and install a different G-Daddy Bait on that new jig. By following this practice you should be able to catch 100+ crappie off of the same G-Daddy Bait! Tight lines!