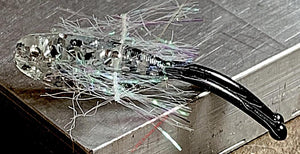 Orders without Hybrids ship within 24 hours. Orders with Hybrids will ship with in 72 hours. Trim the sides to suit your needs.
Baked in scent UV enhanced. UV body sides. Neutral glow body with silver and black glitter. Black tails that glow blue. 
Signature Tough as Nails with good action. Hand injected for superior quality control. Made in Oklahoma. To maximize your G-Daddy Bait life consider cutting the bait and jig off your line versus removing the G-Daddy Bait from your jig. You can set aside the one you cut off for later use and tie on a new jig and install a different G-Daddy Bait on that new jig. By following this practice you should be able to catch 100+ crappie off of the same G-Daddy Bait! Tight lines!